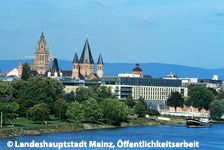 Mainz is a lively city on the river Rhine which was founded more than 2000 years ago during the Roman Empire. It is situated near the UNESCO world cultural heritage "Upper Middle Rhine Valley" and is one of the centers of the German wine economy and trade.
Science and technology are closely entwined with the town, just think of the invention of the movable-type printing press by Johannes Gutenberg over 500 years ago.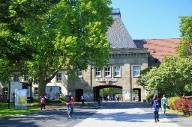 With approximately 36,500 students in about 150 schools and clinics, the Johannes Gutenberg-University of Mainz is among the ten largest universities in Germany with 11 faculties of study and is considered one of the most prestigious universities in Germany, especially in the natural sciences and economics.
Students encounter a broad variety of cultural
activities as well as leisure and sports activities. Many cultural institutions offer students a discount or even free entry, for example at the State Theatre in Mainz. With its historic character and its cultural flair Mainz unites the quality of life in a medium-sized town on the Rhine with the multifacetted activities of a state capital.
The campus lies in a comfortable distance to the city center and is connected to it by a number of bus lines. There are several student dormitories on the campus or in close vicinity to it. The central position of Mainz offers excellent transport connections to reach any destination within Germany. Within 30 minutes you can reach Frankfurt airport, one of Europe's central traffic hubs.
Enjoy a film about the city of Mainz, studying at Mainz University and the Mainz University research showreel.
If you are curious why one of our fellows likes Mainz then have a look at this video.